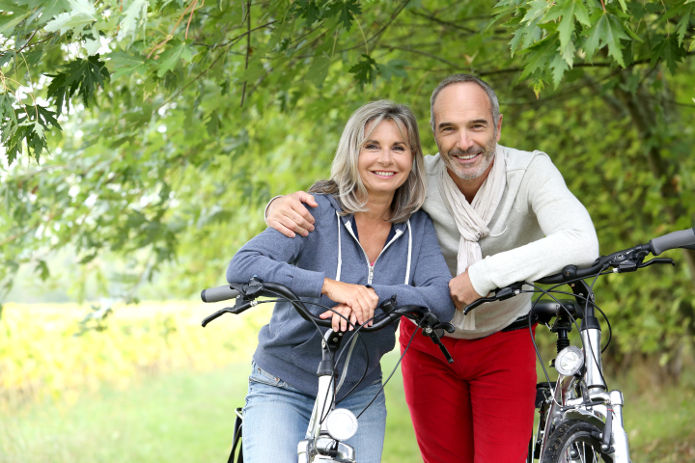 As we get older, sometimes we find it more challenging finding quality people to date. We come to a point in our lives that we don't want to be set up by our friends and suffer through a lame blind date, nor do we want to go the bars and mope while we sip a martini. As men over 40, we feel like we have so much to offer women (and we do!), that it shouldn't be so difficult finding a great lady without having to resort to dating tactics we employed when we were in our 20s.
Here are some of the top places we like to go to find a great woman without having to sacrifice our integrity.
1. Dinner Parties
Now that you're older, dinner parties are a pretty common thing. Your friend, co-workings, people from church—whoever invites you over for a dinner party, barbeque, or cocktails, make every effort to go. Not only will you have a reason to get out of the house, but it'll give you an opportunity to broaden your social circle and meet new people (ie: a new lady). If you don't get invited to any of these, host your own! Make it a rule that everyone you invite brings a guest that is new to the group.
2. GYM
Where does someone go to meet women of a certain caliber, women who are affluent, fit, financially stable, and well-to-do? The GYM is always a great place to find these types of females. Not only can you workout and stay fit, but you can also meet new people of the same interests. Who knows, you may even meet your soul mate there. This will definitely impress the ladies and they may even come to you for advice.
3. Attend Classes/Lectures
Although this option isn't too popular, you can bet that the women who do attend a variety of classes or lectures are good candidates. The women who attend these activities are thirsting for knowledge and ways to improve themselves (and they also may be looking for attractive single men like yourself, too). When choosing an event, make sure it is on the weekend and the course isn't an all-day affair. Shorter classes and lectures will give you plenty of time to mingle with other people who attended. If you don't meet a single lady there, at least you've learned something new that will enrich your life.
4. Volunteer
Volunteering, whether it is at your local homeless shelter, your church, a school activity, or at a company fundraiser, is an excellent way to meet women. There are a lot of quality women who want to give back to their community, and these are the ladies that you definitely want in your life. They tend to be selfless humanitarians who's idea of a good time is by helping those who are less fortunate. If that doesn't sound like a classy woman, then I don't know what is.
5. Dating Websites
Online dating over 40 is one of the easiest ways to get in touch with the kind of woman you want. Because there are so many different websites out there that cater to every kind of "type," you'll have no problem finding yourself your special someone. Let's not forget that because the internet is so vast, you will be put in contact with hundreds, if not thousands, of eligible single ladies without ever having to leave your home. Now that is what we like to call efficiency!