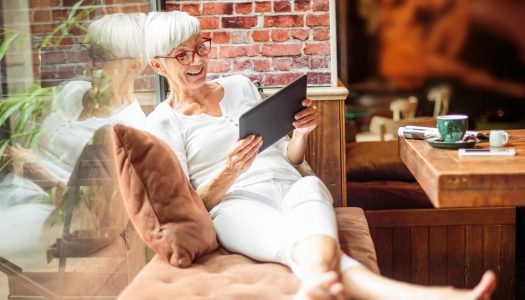 Online dating is becoming one of the most popular ways to meet singles who have similar interests as you. As intriguing as it may be, it is something that many seniors are curious about, but they are afraid to ask.
Fortunately, we understand how daunting online dating can be for those who are unfamiliar with the idea of it. In this article, we will clue you in on the things every mature single should know prior to joining just any ole' online dating website.
The Cost
Much like everything else in life, there are some websites that require you to pay a monthly membership fee, which varies from website to website. Typically, these fees will grant you messaging abilities that will allow you to send and receive messages from other members, advanced search functions, and a slew of other features.
Some people will say that a paid membership is worth the money, but there are websites that offer free memberships. These free memberships have limited features, but it doesn't necessarily mean that your chances of finding love are any less.
Getting Started
In order to start your foray into online dating, you're going to want to choose a website that suits your needs. For example, if you want to date veterans, there are sites designed especially for that. The same goes for a gamut of other preferences—young singles, uniformed singles, homosexual singles, people who like the outdoors, intellectual singles—you name it, there's a site for it.
Once you choose your site, you will want to create a profile. This profile is like your resume. You will want to talk about yourself, your likes, dreams, hopes, and anything else you want other people to know. The profile will be what draws people in and want to learn more about you, so make sure it is describes you in the best way possible. Just don't lie!
Show, Don't Tell
You may want to say that you have a sense of humor or that you've traveled the world, but that is generic and uncreative. Instead, show the people you're funny side by sharing a humorous story on your profile. Describe your favorite trip to a foreign country. These types of things will give people a better idea about your personality and your character. Keep in mind, the more details you can give, the more intrigued people will be.
A Picture Speaks Volumes
We are visual creatures, there is no denying that. There will be a spot on your profile where you will have to upload a picture of yourself. This picture should be a clear shot of you while you are looking your best. You don't want to post an overly stylized picture (or one that is too sexy). Choose a picture that is natural and where you are smiling.
What to Leave Out
You may think that you need to disclose everything on your profile, but this is far from the truth. In fact, there are some things you should never put on your profile; things like no past relationship talk and saying emphatically what you don't want ("no time wasters, no Viagra, etc.). A good rule of thumb is to always be positive in your profile. If you can't speak positively about something, leave it out.
The Next Step
While you are on these online dating sites, you are going to send and receive messages from other members. This is great, but you will want to exercise caution when setting up and going on a date. Choose public places and always go to the date in your own vehicle. While most of the people are genuine in their desire to find love, there are some unsavory people who search for victims.