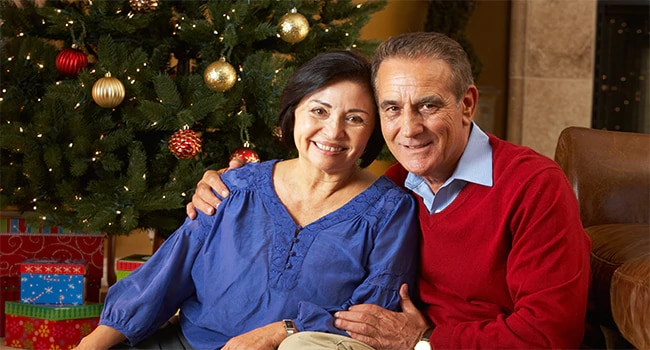 Whether you aren't in a relationship by choice or circumstance, you may not be in the most festive of moods this Christmas. However, that doesn't mean that you should wallow in self-pity and be miserable the whole time, either.
Even though you may think that the holiday music and cheery Christmas shows won't turn your heart to ice, you may start to feel the stress of it all when you see couples in their matching rompers kissing under the mistletoe and getting the "perfect" gift for their loved one. You have one of two choices at this point—either be like Bridget Jones or you could follow these survival tips:
It's always about your perspective on the situation
For many, admitting that you are single brings shame and other negative connotations. You shouldn't think of yourself as being single (even though that is what you are), but instead think of yourself being committed to enjoying the holidays the way you want to.
Even though Christmas peddles the idea that you should be in a relationship for the holiday, it doesn't have to be that way. In fact, by looking at the bright side of being single this Christmas gives you a bit more freedom than you would have otherwise.
Be happy by doing the things you want to do
As a single person, you have the luxury of not having to scour the shops looking for that perfect gift to get your mother-in-law who is never satisfied with anything you get her. Now, you have the opportunity to spend your time on the stuff you want to do. This means that you can treat yourself to the day at the spa, getting pampered. You can finally buy that designer handbag you've been drooling over. Why, you can even attend a holiday mixer where you can meet new people and maybe find someone who you may want to go on a few dates with.
Have a good answer handy
When you're single at Christmas, you'll probably run into a few busy bodies who will grill you about your relationship status. Why aren't you married? When will you settle down? What are you waiting for… Blah blah blah. Your family means well, but they probably don't realize that you have no intention on settling down and you may not even have the desire to date right now. When your relatives do ask why you're alone, you should always have some kind of witty response to throw back at them.
Become a social butterfly
Whether you are looking to meet someone new or not, you should always want to accept any party invitations you receive during the holidays. This is your chance to get out there and have fun, do you, and just enjoy the single life. By getting out there and attending this party or that, you're opening yourself to new people and new possibilities for someone to date. You never know who may be standing by the punch bowl at the company party.
Don't shy away from online dating
How many times have you suggested to someone that they try online dating if they are looking for love? How many of those instances where you met with an odd look and skepticism? In the past, online dating has gotten a bad rap, but it has evolved a lot through the years and there aren't many (if any) risks to just trying it to see what kind of people are out there. You may surprise yourself by how strong of a connection you may forge with someone that you've met online. All you have to do is be willing to look.
Don't throw yourself a 'woe is me' shindig
Look, you aren't the only person to have to go through the holidays alone, even though you may feel like this is the case. Sure, you may not have someone special to kiss under the mistletoe with, but you have plenty of friends and family to share some time with. The holidays are about togetherness, giving, love, and joy. Nowhere does it say you can feel these things with someone who isn't sharing your bed.
Now go out there and be merry!