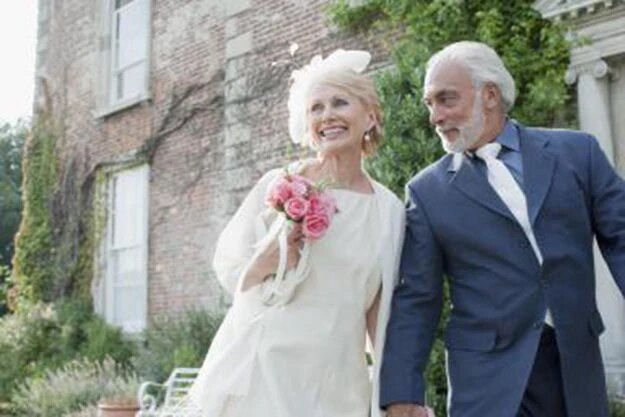 Sorry to say, the rules for dating has changed, and along with that, so had the rules for getting married too. With that said though, we are here to fill you in on these changes so that you are prepared to navigate the world of getting married at 50.
You should still register for gifts. You may think that you've already got everything you need, but it's good to have a few registries anyway. Sure, you may have a coffee machine, but as you got older, you've grown fond of a shot of espresso with your morning coffee. Your registry will allow you make that upgrade!
You can wear white. Long time ago, white was intended to symbolize purity, virginity, and it was reserved for only first-time brides. However, now they have the option to wear colors on their big day. So, why can't older brides wear white? Other than colors, you have the choice to do something else brides have been doing as of late, and that is by changing into a whole new gown. Go all out and change your make up, have your hair redone, go for the gusto!
Larger wedding parties are okay. Since you're marrying later in life, chances are that you are going to know a lot more people. Why, your family may have extended to include step children and even grandchildren. So instead of only choosing a few people to be in the wedding, it's nice to include a little bit of everyone. Remember, including people rather than excluding them makes a huge difference in the family dynamic later on.
Use your children for the bridal party. If you are afraid of offending people who may or may not want to be in the bridal party, make the wedding a family affair where you include all of your children in the ceremony.
To include or not include the ex, that is the question. If your relationship with your children's parent ended a long time ago and you still co-parent, it is up to you whether you want to invite them to your wedding or not. If you do decide to go down this route, you will want to tell your ex that they are welcome to come, but they are not allowed to bring someone if they are the reason your marriage ultimately fell apart, aka, no mistresses need apply.
Don't talk about your decision to include (or not) the ex. It isn't anyone else's business besides you, your partner, and your children whether or not you invite the ex to your wedding.
Don't rehash old wounds during your vows. This is the time where you tell your partner how much you love them and why you are so happy they are in your life. You may think with a vow like, "You taught me how to love again," is endearing, it is just a small reminder that you were married before and whatnot. Instead, focus on your current relationship and say the things you love about your partner and what you want for you both in the future.
Let technology help. Perhaps you have your heart set on going away to a tropical island for your wedding, but not everyone can make it. This doesn't mean you have to forego what you want for the sake of others—let technology help. You can set up a Periscope or a video conference chat of your wedding. This allows people who are close to you to "be there" for the nuptials without having to shell out thousands of dollars to attend. Plus when you get home, you can have the big party with everyone.
Are the children invited? When you invite couples who may have children, you might be asked a time or two if they can bring their children. You'll have to decide if you want any children in attendance (other than your own) or if it should be completely kid free. There's nothing worse than paying an expensive caterer for a plate of food if the child barely even touches it all night.
Listen to your parents.
Your parents aren't going to play an active role in your wedding and the planning of it, but you should take their advice into consideration; and, even if you don't plan on listening to their advice, use this time to bond with them while you can—you'll be glad that they were there for such a big moment in your life.